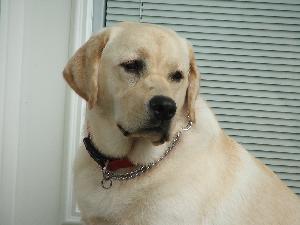 Alert! Heat Stress can lead to death.
Please read about heat stress and heat stroke.
In hot and humid weather conditions a pet can over heat and suffer a heat stroke in a very short amount of time. A heat stroke can cause irreversible brain damage and even death. An animal cannot sweat, thus they cool themselves through panting. In extreme heat or if the pet is dehydrated, their panting becomes inefficient. If you feel your pet might be having a heat stroke, you should seek emergency help from a veterinarian immediately. Remember that even on cooler days, high humidity can cause your pet to overheat. Symptoms of a heat stroke are vigorous panting, laying on their side unable to stand, and possibly frothy foam around the mouth. However, some pets become severely agitated and some show signs of shock. Cooling down your pet should be done immediately with tap water. Ice or cold water is not recommended. Since a heat stroke affects nearly every system in the body, simply cooling your pet will not address all the potential harmful effects to your pet. Please seek treatment from a veterinarian immediately. Call us at 281-856-7023.
If we are closed please contact:
Name of Emergency Practice:
Animal Emergency and Referral Center of West Houston
4823 Hwy 6 North
(In the HEB shopping center)
Houston, Texas 77084
Phone number: 832-593-VETS (8387)